Application Development
Mobile
Making your product accessible on mobile devices is essential to your business. We work with you to develop a comprehensive mobile solution that impresses your customers. To cover the widest possible market, we usually recommend both an iOS & Android app - our technology allows us to build a single app for both platforms including tablets & smartphones at a small incremental cost over only one.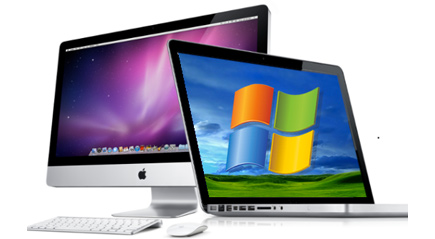 EDT builds desktop applications for both Windows & Mac OS X
Desktop
With over 60 years combined software development experience, Enterprise Data Technologies is your best provider for business and commercial software development. Our proven method allows us to develop cost-effective solutions in record time. We are able to build a single application that runs on both Windows PC's & Mac OS X desktops.
Cross-Platform Development
In today's world customers are using both mobile devices and desktops computers and expect applications to be available on all the platforms they use. They also expect their data to be synchronized across their platforms and devices. We specialize in cross-platform development solutions that use a single code base across both desktop and mobile devices. Our cloud-enabled apps provide built-in functionality such as automatic data backup, multiple device synchronization and updates.
Ecommerce Platform
B2B E-Commerce Solutions
EDT has built proven platform for specialized B2B and consumer ecommerce solutions. Business requirements often call for the ability to vend digital products on a very specific basis, versus a full-blown ecommerce system rollout. Our platform includes both client and back-end which can be rapidly configured for specialized projects.
Back-End Systems & Services
Server-Side Development
At the heart of many mobile, desktop and web applications is a scalable back-end system that performs critical functions such as system administration, processing business rules, data synhronization, security functions and content generation. EDT has implemented and maintains several systems for our customers that form the backbone of their applications. We are able to leverage our library of re-usable server-side components that are common to most systems, thereby avoiding the cost of developing one-off systems over and over. The result is a far more stable, scalable & maintainable system at a dramatically lower development and maintenance cost.
Our Server-Side solutions include:
User & Order Management
In-App Analytics
App Content Updates
Event Based Marketing
Digital Content Distribution
Subscription Services
And Much More!
Deployment & Cloud Hosting
A major part of any server-side system development is the deployment phase, as well as planning the management, support, maintenance and remediation of the system. Our experience in this area gives you the confidence that your applications are available to your worldwide user and customer base 24/7. EDT can deploy and manage your servers, manage the applications that run on them, take care of software & security updates that are required, and remediate and issues to avoid downtime. To keep your solution scalable we deploy load balancers and setup latency-based routing as traffic and usage require it. Enterprise Data Technologies is your one-stop-shop for back-end development, deployment and hosting.

Deployment/Cloud hosting services include:
Deployment planning & execution
Systems maintenance, support & remediation
Systems & application performance monitoring
Configuration Management
Data Backup & archiving
Systems, application & data security